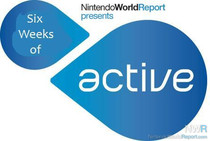 The relatively out-of-shape person that I am, my ass was kicked a bit by the exercises. I felt it most when I did two days in a row, which I guess deserves a bit of explanation.
When you start the Six-Week Challenge, you have to pick out four workout days and three rest days a week. You change this from week to week if need be, which is pretty cool. Currently, I'm rocking Sundays, Tuesdays, Wednesdays, and Fridays.
So let's recap from the past three workouts. The first exercise was the whole body, while the following three focused on specific parts. Day two was lower body and a bit of cardio, day four was upper body, and yesterday was cardio and a little lower body. From the long ago days when I used to work out on a semi-regular basis, this makes perfect sense and I'm impressed that they have this kind of setup, something that I felt was lacking from Wii Fit (I can't vouch for Wii Fit Plus).
Now for the sourness. On Turkey Day, my out-of-shape abs smarted whenever I got up. I guess that means I did something right, and I'm pretty jazzed for when it doesn't hurt as much. My legs were a little sore from the lower body stuff as well.
The exercise variety is good, as new things are showing up in each workout. I enjoyed the Squash exercise, which is built around lunging, and I still love the Cardio Boxing one, which I did for the second time on Sunday. Most of the exercises are what I'd term as standard fare, as it is stuff such as shoulder flies, single-arm rows, and different types of crunches. They're effective, but not that exciting. I really dig the integration of the sports exercises and the regular exercises, as the sports exercises do a great job of putting to use what you already did in the regular exercises but in a different environment (It should also be noted that this tropical island reeks of the Wii Sports Resort and Wii Fit island, but that's a topic for another blog entry, and possibly a comparison piece between this and Wii Fit Plus if I cave and pick up that.).
I'll end this entry with a mention of a feature I would not have known existed if it weren't for Jonny's comment in the last talkback thread. You can weigh yourself using the Balance Board with this game, which is an unheralded and difficult to find feature. It's hidden beneath a few menus, but even still, it's a lot better than busting out the Wii Fit Channel to weigh yourself and getting yelled at for being fat or not using Wii Fit all the time by the bastard anthropomorphic Balance Board. It's quite simple to use, and you're even prompted to use it at the end of the week.
Sadly, due to the game not saving when I changed it or something, I still haven't used the Balance Board for any exercises. The option is now set to "on," but it seems like the Balance Board additions merely flesh out some exercises.
Cumulative Weight Change (as of Sunday): -1 lb.