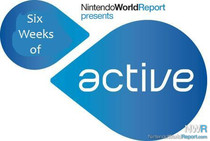 Two weeks into the Six Week Challenge, I fell apart. The realistic and somewhat reasonable excuse is that I got overcome by my college finals, which also explains my absence from the site for two weeks aside from the Spirit Tracks review. However, my finals now have been done for almost a week, and only now am I coming back to the winning team of fitness and activity.
One of my main complaints with EA Sports Active, and another one of my excuses for stopping, is that it gets boring. I know exercise isn't supposed to be a super stimulating activity, and you should repeat exercises and improve on them, but I had this idyllic view of EA Sports Active's sports-influenced exercises and I'm not seeing too many of those.
I enjoy playing squash and working on my lunges. I enjoy doing the stupid little obstacle course where I have to squat, run, and jump. I've also enjoyed the few other sports I've played. There is greater potential in these types of activities, and I'm bummed out that the game doesn't employ more variation.
Still, I'm going to get back on the horse and continue doing this thing. Although I'm getting close to buying Wii Fit Plus so I can compare the two. I want to flap my arms around like a chicken and ride a bicycle.
Cumulative Weight Change: +/- 0