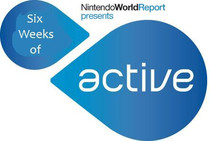 When the game showed up, I realized I had no idea how to review a game that's main feature is a Six-Week Challenge. So, I decided to make a feature out of it (similar to Jonny's EA Sports Active Blog from right before E3), and thus, Six Weeks of Active is now commencing.
I picked an auspicious time to start this, as I'm likely to take about eight steps backwards when Thanksgiving hits on Thursday, but there's no time like the present to get fit.
Today, I cracked open EA Sports Active: More Workouts and began my Six-Week Challenge, which is roughly two weeks longer than the original game's 30-Day Challenge. I didn't play the original game, so I can't comment on too many of the differences, but luckily I was enlightened by an introductory video about some of the changes.
First off, the whole game has an island theme, which is very Wii Fit of them. There are also added warm-up and cool down stretches that, well, warm you up and cool you down. In addition, some more exercises are available, including squash.
After creating my avatar (you can import your character from EA Sports Active if you want to), I hopped into my first day of exercises. This day was focused on the whole body, and I chose the medium intensity.
After going through some trivial but important warm-ups, I went into different exercises ranging from squats to bicep curls. The only complaint I have about those is the stupid resistance band, which seems to be a bit on the weaker side. Methinks I might have to splurge and get a better one soon.
Then, I took all that I learned and did an obstacle courses, which was pretty cool. You have to run to different sections where you then have to perform a short activity. It seems like a great way to keep your blood pumping as there wasn't much of a break during this.
My favorite exercise was the cardio boxing, which was a lot better than my experiences with the Wii Fit version. It was fast paced and responsive, and even if you missed a beat it didn't really degrade you.
I guess the only other thing that begs mentioning is the Nunchuk-holding leg strap, which wasn't an issue after it fell down once and I tightened it more.
Cumulative Weight Change = n/a