Jon "Business" Lindemann's plans lead where even James Jones cannot follow.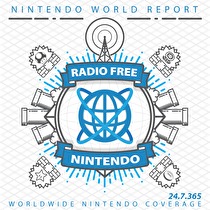 Subscribe via iTunes (Please rate and review, too!)
Still bleary-eyed from Saturday's successful telethon, the team reassembled for another milestone episode. James and Greg kick-off New Business with a look at Xenoblade Chronicles 2. From a story standpoint, they aren't that far apart, but James' incessant wandering has created a huge gulf in playtime. Both impressions are early, but it might be possible that some of the impact from Xenoblade's world-building has been lost three games in. Greg then switches dance partners to talk more Skyrim with Jon. Turns out that there are two ways to play Skyrim: finishing it and not. Guillaume finally finished off Metroid: Samus Returns, presumably being lapped well-over 200 times by Greg in the process. He's not enamored with this return to 2D. He also continues his gaming-out-of-time with Tumblestone for Wii U.
After the break, it's time for Listener Mail. This week we handle two emails. One asks us to create Weird Al-style parody songs and the other requests we map out a merely "fine" 2018, in light of Nintendo's 2017 efforts. The first email quickly turns into a chat about Mega Man 11, and the second was continually being complicated by Nintendo's announcements at The Game Awards, which ran alongside recording. You can write us parody emails via the inbox.
This episode was edited by Guillaume Veillette. The "Men of Leisure" theme song was produced exclusively for Radio Free Nintendo by Perry Burkum. Hear more at Perry's SoundCloud. The Radio Free Nintendo logo was produced by Connor Strickland. See more of his work at his website.
This episode's ending music is requested by Derek: "MONOX" (Title Screen Theme), from Xenoblade Chronicles X. Composition by Hiroyuki Sawano. All rights reserved by Nintendo Co., Ltd.