Jonny is recording long-form interviews with staff members from the past 17 years of this website, and you can listen to them as a preview for his upcoming book. This one features N64 hot shot, website designer, and super-dad Justin Nation!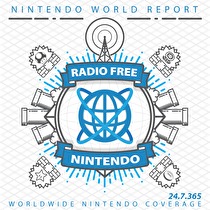 Subscribe via iTunes (Please rate and review, too!)
Welcome to a series of special podcasts, hosted by your friends at Radio Free Nintendo. Former podcast host and website director Jonathan Metts is sharing his extensive interviews with current and former staff members from Nintendo World Report [the very site you are now reading, which is also still widely known as Planet GameCube (which is one of the long-term prices we've had to pay for the privilege of changing our name at the peak of our popularity).] These interviews are part of his research for an upcoming book about the long-running website, focusing on its vast array of dedicated, all-volunteer creators. This paragraph is painfully thorough because I want to reuse it for each subsequent release from this series, which is planned to continue throughout 2016!
This interview features the podcast debut of Justin Nation (it was also the first time he and Jonny had ever spoken, despite 15+ years of acquaintance). Justin is an old-school Nintendo reporter and media critic who founded The 64 Source and Operation N2000, discovering a crack team of well-known enthusiasts who later followed him to join the ranks of our own site. You'll hear about the time Justin was fired for working on PGC (before it reshaped his real career), and how being a family man affected his involvement. This interview is a unique opportunity to hear from one of our legendary staff members, whose influence can still be seen all over Nintendo World Report, even though he retired long before that name was installed.
If you haven't already, subscribe to Radio Free Nintendo with the links above to automatically receive all upcoming interviews in this series. You'll also get brand-new episodes of the best Nintendo podcast, according to my mom.