Philip K. Dick didn't live to see the Game Gear, but if he did this would be his most harrowing alternate history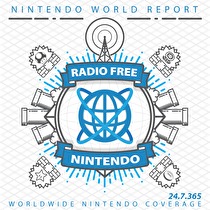 Subscribe via iTunes (Please rate and review, too!)
Despite it not being addressed in the introduction, Jon is out this week. James, Gui, and Greg soldier on without a substitute, focusing instead on producing the first episode of RFN in a post-telethon world. A quick word of thanks for all who participated gives way to New Business. James and Greg lead off with "early" thoughts on Monolith Soft's Xenoblade Chronicles X. To paraphrase, "If you're listening right now and you don't know what this game is, you're probably being forced to listen to this podcast." Guillaume follows with Camelot Software Planning nee Sonic! Software Planning's Shining Force: The Sword of Hajya, originally for the Game Gear, via the 3DS Virtual Console (RIP). He then turns his 3DS, and low expectations, towards BOXBOY! It turns out the HAL Labs puzzle-platformer is really good. Lastly, Greg has some words of concern for unlocking the seventh world of Chibi-Robo Zip Lash. Didn't know there is a seventh level? Not surprising. Heed his warnings within.
After the break, the trio turns to Listener Mail! Topics include the future of Final Fantasy on NX, predictions (uh oh) for the final Smash presentation, Nintendo patents (extendable computers, distributed computing, weird screen-based controllers, shoulder scroll wheels, etc), Nintendo's unpredictable 2015, and a volcanic eruption of bile over Nintendo Badge Arcade. You can project your magma-like bile into our mailbag.
If you have a few minutes, please do us a favor and take an audience survey. It's a bit long, so we appreciate your time. The survey will help us both understand the makeup of our audience and what they like/dislike. Thank you.
Lastly, if you missed any of last week's telethon, the entire show is now available for your listening pleasure. Check the RFN feed or here to catch up.
This episode was edited by Guillaume Veillette. The "Men of Leisure" theme song was produced exclusively for Radio Free Nintendo by Perry Burkum. Hear more at Bluffs Custom Music.
This episode's ending music is The Grand Finale, from Mario and Luigi: Bowser's Inside Story, requested by kobeskillz. All rights reserved by Nintendo. Composition by Yoko Shimomura