Jon Lindemann's got to know we're going to get him out.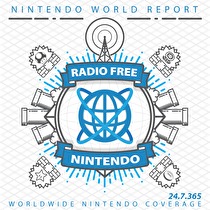 Subscribe via iTunes (Please rate and review, too!)
It is a great time to be alive! RFN Season 5 is now fully up and running and The Summer of Too Hot for Games, brought to you by Nintendo of America, is over! James kicks off New Business with LBX: Little Battler eXperience. He's got some big news for fans of Capcom classics Mega Man Battle Network and Gotcha Force. That news? You probably ARE James Jones and you should look into LBX. Greg is seeing the world in a new dimension with 3D Gunstar Heroes and 3D Streets of Rage 2. Someone is still releasing classic games on the 3DS eShop; it just happens to be Sega. Guillaume has a game that many of you many not realize you already own, Woah Dave! for Wii U - which is free if you already own the game on 3DS. He also gives his early impressions of Final Fantasy VII, as played on a PSP Go(!); this show strives to be at the forefront of gaming. Lastly, Jon has reconnected with the world of Madden, with Madden 16. Is EA's game design strategy three yards and a cloud of dust, or are they spreading out their receivers?
After the break it's the first feature discussion of Season 5: a reflection on system end-of-life release lineups. The crew steps through the games released in the last 18 months of each Nintendo system (through the GameCube), and picks out their favorite titles. Along the way some curious trends show up. In true RFN fashion, nobody can agree on what the end of the Game Boy's life was, we all found the GameCube wanting, and there is yet another reference to the podcast's favorite NES trivia question.
In other news, it's that time again: we're getting ready for our next Retroactive feature. RFN is excited about the impending release of Super Mario Maker, perhaps to a fault. However, it seems like Nintendo has forgotten some of Mario's past accomplishments when putting together this tribute to the plumber in red. So, here is the topic for our next Retroactive: Games on the Virtual Console featuring Mario that are NOT represented in Super Mario Maker (i.e. Super Mario Bros., Super Mario Bros. 3, Super Mario World, New Super Mario Bros.). Any use of Mario sufficient. With all that said, we aren't ready to announce a poll. We need your help picking the candidates! Send us your suggestions for the next Retroactive, your questions, your comments, or your suggestions for our ending music to the RFN mailbag. We'll announce the poll alongside the launch of Super Mario Maker, on September 11.
This episode was edited by Guillaume Veillette. The "Men of Leisure" theme song was produced exclusively for Radio Free Nintendo by Perry Burkum. Hear more at Bluffs Custom Music.
This episode's ending music is from Skies of Arcadia: Kingdom of Montezuma, by Yutaka Minobe. All rights reserved by Sega Sammy Holdings. It was requested by James.