James, J.P. and Donald knew with Smash Direct and the Nintendo World Championship there would be some pre-show news to talk about. Little did they know that the good ship E3 would spring so many leaks. We've got a quick catch-up for you.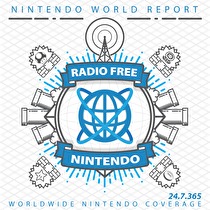 Subscribe via iTunes (Please rate and review, too!)
It's finally E3 week, and Nintendo is on a mission to capture everyone's attention. Days before their Digital Event goes live, they jumped the line with announcements, releases, demos, and events. James, J.P. Corbran, and Donald Theriault dig into the news to provide a quick recap of everything Nintendo thus far, and to briefly reflect on the developments from a few former Nintendo partners. The Nintendo Digital Event is merely hours away and this is the last podcast before all the bombs get dropped.
Remember to send any questions you have for our E3 team to our special NWR @ E3 email address. If you have questions for RFN you can keep on using the normal inbox and we'll get to them following E3.
This episode was edited by James Jones. Nintendo World Report E3 2015 music, "Kick Ass" and "Hiphop Suns," were composed by Alex Dyke. More of his music is available at soundcloud.com/alexdickdyke