It's the least predictable time of the year, so there's no better time for our annual E3 Predictions!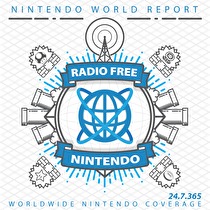 Subscribe via iTunes (Please rate and review, too!)
Bad news first: Gui had to drop out last-minute from this episode, so we're down to three with a lot of ground to cover. But not to worry! You should be hearing plenty from Gui on next week's Listener Mail extravaganza on the cusp of E3, as well as in some of the NWR Home Team's podcast coverage during the whole week of E3.
For now, you'll have to settle for just Jon, James, and Jonny, the latter of whom starts New Business with very early impressions of Splatoon, focused entirely on the lesser-known Battle Dojo mode for local competition. Jon blows our minds with his selection -- I don't even want to ruin the surprise, but it's related to his greatest backlog shame. It leads to a pact that could possibly end with us playing Witcher 3 this year... Then, it's time for the impressions you've all been waiting for, as James finally plays Code Name STEAM! Will it meet the standards of our strategy game expert? Before the end of New Business, we also take a quick tour through the latest announcements in Nintendo's pre-E3 "Micro Direct" video.
We waited as long as possible, but E3 Predictions can no longer be contained. This popular feature begins with a quick review of last year's predictions, all of which were completely accurate (naturally). Thanks to Stephen for helping out with that! And then, it's finally time for our brand new, completely stupid and wrong predictions for E3 2015.
The big show itself is only about a week away, and you can expect the best Nintendo coverage right here at NWR! To keep up with it all, be sure to subscribe to our NWR TV channel on YouTube, keep checking the website's front page everyday, and keep looking for new podcasts to show up on the RFN feeds!
This episode was edited by Guillaume Veillette and James Jones. Now Playing was produced by James Jones and Jon Lindemann. The "Men of Leisure" theme song was produced exclusively for Radio Free Nintendo by Perry Burkum. Hear more at Bluffs Custom Music.