The live event is over, but the recording is now one of our biggest episodes ever!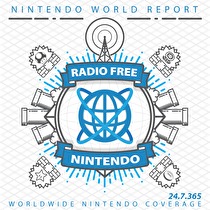 Subscribe via iTunes (Please rate and review, too!)
We decided to do this entire episode as a live event -- special thanks to everyone who could join for that, by the way! It has all the segments and features you'd expect, but all performed live. You'll also hear our special 8-bit theme song by Perry Burkum, now in higher quality! We hope to keep using this version hereafter for all RetroActive features.
New Business includes fresh impressions (our first in two weeks) of Stretchmo, Sonic Boom, Grand Theft Auto 5, and oh yes, Splatoon! After an awkward Now Playing promo (sadly, in prose), we return for the main event. This RetroActive turns out to be one of our best ever, with tremendous participation in the forum thread and a few questions from the live event audience as well. All four of the RFN guys played a whole lot of The Legend of Zelda: Twilight Princess (all for at least the second time through), and it proves to be a very rich topic indeed. It's probably impossible to discuss every single aspect of this long and complex game, but we covered a lot of bases in a roundtable that itself lasted over two hours!
We're planning for annual E3 predictions next week, and there may be time for Listener Mail too, so ask us about Chibi-Robo or tell us your story from the Nintendo World Championship qualifiers -- your path to become part of the podcast is right here. Also, don't forget to keep up with those darned Famicast guys over in their own podcast page, where you can find every episode from Japan and subscribe to get new ones every two weeks!
This episode was edited by Jonathan Metts. Now Playing was produced by Jon Lindemann. The "Jump Men of Leisure" retro version of our theme song was produced exclusively for Radio Free Nintendo by Perry Burkum. Hear more at Bluffs Custom Music.