Craig Harris joins us for impressions of Bayonetta 2, memories of unreleased games, and much more!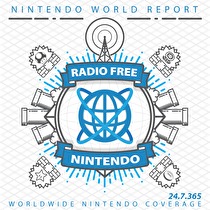 Subscribe via iTunes (Please rate and review, too!)
It's always too bad when one of the RFN crew has to miss a show (in this case, Guillaume), but having access to fantastic guests like Craig Harris makes it better. Many of you will know Craig from his long tenure at IGN, where he covered Nintendo and especially handhelds like Game Boy Advance and Nintendo DS. He has since moved on to companies like Sega and Electronic Arts, and we managed to catch him in the gap before his next big career move.
This week's New Business features an interesting batch of games, as James leads us through the convincing Bayonetta 2 demo and also tries Level 5's Layton Bros. (no relation?) for iOS and Android devices. Craig follows with his thoughts on Smash Bros. 3DS and a hot new game that's close to his heart -- Alien Isolation! Jonny continues the seasonal theme with Castlevania: Circle of the Moon (now visible on Wii U's Virtual Console) and creepy pixel-based game Lone Survivor, now available on Wii U's eShop.
We had to skip Lindy in the first segment due to computer problems, but he pops in after the break to help us with Listener Mail. The first question about unreleased games (inspired by the recently exposed Rogue Squadron Trilogy) is perfect for a guy with Craig's experience -- he's played tons of them! We also revisit the fun topic of radically different sequels, as well as the best time to buy a console. Please keep sending your great questions and comments through our convenient email form.
In case you missed the recent announcement, RFN Powered Off is now available! This PDF magazine is all new content written by Nick Bray, Karl Castaneda, and the entire current podcast crew. Plus, it's all wrapped into a goofy 90s-style design with a matching cover design by our own Andrew Brown. This special project closes out our celebration of Episode 400 and is entirely free to download and enjoy, so please do check it out!
This episode was edited by Guillaume Veillette. The "Men of Leisure" theme song was produced exclusively for Radio Free Nintendo by Perry Burkum. Hear more at Bluffs Custom Music.