Here are the podcast highlights from our first 400 episodes, as chosen by listeners! Update: Greatly improved audio quality for the AAC/M4A version of this episode!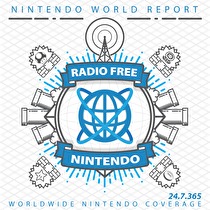 Subscribe via iTunes (Please rate and review, too!)
Update: The enhanced AAC/M4A version of this episode was originally exported at much lower quality (by accident). We have now fixed the file, and you can get the correct version from the direct download link above, or by deleting and re-downloading this episode in your podcast feed application, if subscribed.
One of the reward tiers for our RFN 400 funding campaign offered generous donors a chance to pick their favorite moment and have it showcased on the anniversary podcast. We're just a bit late on bringing the highlight reel to you, but its contents won't disappoint. Listeners picked out some of the funniest, most embarrassing, most prescient, and most emotional highlights from the past eight years of Radio Free Nintendo. This compilation even includes not one, but two shameful musical performances!
Thank you again to all our donors and listeners for making RFN 400 so very special. We hope you enjoy this look back, as we prepare to move forward with brand new episodes coming very soon! As always, you can help fill those with great discussion by sending an email to the show.
This podcast was edited by Guillaume Veillette.
Music for this episode of Radio Free Nintendo is used with permission from Jason Ricci & New Blood. You can purchase their newest album, Done with the Devil, directly from the record label, Amazon (CD) (MP3), or iTunes, or call your local record store and ask for it!
Additional music for this episode of Radio Free Nintendo is copyrighted to Nintendo and is included under fair use protection.