One week prior to the big anniversary, we discuss TVii (really), the Smash Bros. 3DS demo, and much more!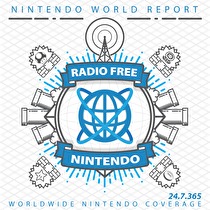 Subscribe via iTunes (Please rate and review, too!)
This final episode of RFN Season 3 begins with important and exciting news about one of our favorite guest stars and why he probably won't be back anytime soon. It's a happy reason!
It doesn't happen often, but Jon Lindemann starts New Business with his surprise at the rock-solid Super Smash Bros. for 3DS demo, which everyone else played too. James follows up on Layton x Wright by strongly recommending the DLC scenes. Jonny tries the Theatrythm Final Fantasy: Curtain Call demo and also suggests the perfect companion experience to Fire Emblem: Awakening. Guillaume wraps the segment with his advanced impressions of Azure Striker Gunvolt, plus the demo (or maybe accidental purchase) of Wooden Sen'SeY, the lone Wii U game in this 3DS-heavy edition of New Business.
There's just a pair of emails in this abbreviated episode, but they're both unusual topics. The first is about TVii, the confounding failed attempt to get people watching television while also doing... something... on the GamePad. Listen for a wild live demonstration! The other question is about Crush 3D and just how similar it is (or isn't) to Fez. I bet even Sega can't believe we are talking about Crush 3D in the year 2014, but there it is. As we're always saying, you can write an email to RFN about nearly any topic! If we have something to say about it, we'll probably do so on the podcast.
It won't feel real until everyone is standing in Colorado, but we really are just a few days out from the epic Episode 400 weekend, thanks to all of you! Be sure to check the front page of NWR, the NeoGAF thread, and our social media accounts to be alerted when our live streams are starting. We're going into the studio on Sunday afternoon and hope to get the big show out for you that evening or maybe the next day. EXCITE!!!
This podcast was edited by Guillaume Veillette.
Music for this episode of Radio Free Nintendo is used with permission from Jason Ricci & New Blood. You can purchase their newest album, Done with the Devil, directly from the record label, Amazon (CD) (MP3), or iTunes, or call your local record store and ask for it!
Additional music for this episode of Radio Free Nintendo is copyrighted to Nintendo and is included under fair use protection.