Dan Adelman is our special guest for an intense look at establishing WiiWare, DSiWare, and the eShop. Plus: we discuss the effects of Phazon within the games media in Listener Mail.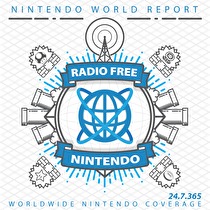 Subscribe via iTunes (Please rate and review, too!)
We don't often have full-on interviews or new guests on Radio Free Nintendo, because it's asking a lot of these people to deal with our strict recording schedule and the relatively complex procedures needed to make the show sound good every week. This time, it was absolutely worthwhile. Our special guest is Dan Adelman, the independent development consultant who recently left Nintendo of America after nine years of work on digital distribution platforms. It so happens that we on RFN have spent the last eight years obsessing over the mysterious workings of those same platforms and shop portals. Dan couldn't talk much about Virtual Console (we'll keep trying) but he answered freely and at length our very specific questions on everything from the WiiWare file size limit (40 megabytes!) to the evolution of Nintendo's digital storefronts and how backwards policies eventually got changed through the maze of Nintendo's bureaucracy. We think you'll find his answers enlightening and fascinating, as we did throughout the interview. Dan is now a freelance consultant for independent developers who need business help -- check out his website for more information, or ping him on Twitter (@Dan_Adelman). The guy knows what he's doing, as you'll hear.
It's back to just the four of us in part two, but we stay on the industry talk train with an in-depth edition of Listener Mail. Just one topic this week, but it's a big one that consumed the remainder of this episode. A listener is concerned about corruption within the gaming media and asks us to tell all. No problem! Note: Our discussion is removed from sex stories, crowd-sourced harassment, hashtag wars, etc. It's just about standards of ethics, disclosure, and professional relationships across the industry. We aren't calling out anyone, except maybe ourselves.
We'll swing hard back into game discussion next week, so keep that in mind when you write an email for the show! And of course, huge thanks again to Dan Adelman for spending so much time answering our obsessive questions.
This podcast was edited by Guillaume Veillette.
Music for this episode of Radio Free Nintendo is used with permission from Jason Ricci & New Blood. You can purchase their newest album, Done with the Devil, directly from the record label, Amazon (CD) (MP3), or iTunes, or call your local record store and ask for it!
Additional music for this episode of Radio Free Nintendo is copyrighted to Nintendo and is included under fair use protection.