RetroActive: Goldeneye Online is finally complete, with the help from a friend. We also check out several brand new Nintendo games!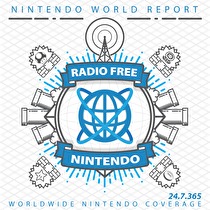 Subscribe via iTunes (Please rate and review, too!)
After several weeks of teasing and preparation, it's finally time to realize the 30th RetroActive feature with Goldeneye 007 for Wii. But first, we have loads of fresh Nintendo games in New Business. James is up first with the surprise dump of Mega Man Xtreme on 3DS Virtual Console. It's hard to believe we're talking about an old handheld game being made available on this service, but maybe not as unlikely as an adaptation of the Mega Man X series for Game Boy Color turning out pretty good. Jonny follows that with effusive praise for NES Remix 2, the one that gets it right. He also piggybacks onto Guillaume's impressions for Child of Light, the new Canadian Role-Playing Game (CRPG) available on your Wii U and other platforms. Finally, Jon catches up with the Mario Golf: World Tour demo on 3DS as we try to figure out whether any of us is excited by another Mario sports game, regardless of its quality.
In the latter half of the show, we do make good on RetroActive, with considerable help from our friend Nicholas Bray (the NWR Powered Off mastermind). We all played Goldeneye online for this feature, sometimes with each other, and managed to have a lot of fun despite innate problems with the Nintendo WiFi Connection service, not to mention a few balance issues with the game itself. Maybe we won't mourn Friend Codes and the inability to patch these games, but it is justifiably sad to see such a fun multiplayer game shut down. Thanks so much to everyone who played online with us! If your interest was piqued, and you'd still like to play this game online before the servers shut down in late May, try to drum up interest right here.
Listener Mail is definitely in the cards next week, and we have plenty of ground to cover with reactions to Nintendo's E3 plans, RFN 400 feedback, and much more. Let us know what you'd like to hear discussed, and we'll try to make it happen!
RetroActive will return...
This podcast was edited by Guillaume Veillette.
Music for this episode of Radio Free Nintendo is used with permission from Jason Ricci & New Blood. You can purchase their newest album, Done with the Devil, directly from the record label, Amazon (CD) (MP3), or iTunes, or call your local record store and ask for it!
Additional music for this episode of Radio Free Nintendo is copyrighted to Nintendo and is included under fair use protection.