It's slim pickings the week before Bravely Default, but we fill the gap with... third-party Wii U games???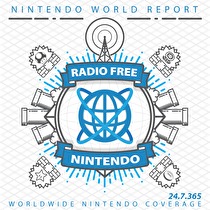 Subscribe via iTunes (Please rate and review, too!)
Note: You won't hear much from Jonny during the middle section of New Business, due to an audio problem, which also took out a good portion of Jon's Zelda update. Special thanks to Guillaume for editing around it!
We launch into weird territory this week as James catches up with Tekken Tag Tournament 2... yes, the weird and highly polished Wii U launch title! Gui keeps the third-party train rolling with Scribblenauts Unlimited for the same system. Jon is almost finished with A Link Between Worlds, and he ponders which game will be next for his upcoming travel plans. Jonny recommends indie puzzler The Swapper (on PC, and maybe more soon?), which wraps head-scratchers in a shroud of Metroid-like gloom. He also checks out anime series Attack of the Titan (now on Netflix for us Americans) and a couple of Japanese games based upon it, including the 3DS one beloved by Danny on the Famicast.
Listener Mail covers a couple of Zelda questions before allowing us some guarded optimism on Nintendo's future with third-party studios. We also, rather briefly, get to play CEO and check off what we would do if put in charge of Nintendo. Look forward to some weird ideas there, and send your email about them there video games!
This podcast was edited by Guillaume Veillette.
Music for this episode of Radio Free Nintendo is used with permission from Jason Ricci & New Blood. You can purchase their newest album, Done with the Devil, directly from the record label, Amazon (CD) (MP3), or iTunes, or call your local record store and ask for it!
Additional music for this episode of Radio Free Nintendo is copyrighted to Nintendo and is included under fair use protection.