Karl guest-stars as a new Wii U owner, yet it seems like we've seen all these games before!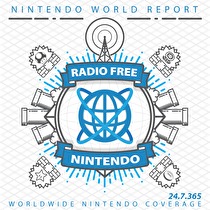 Subscribe via iTunes (Please rate and review, too!)
We didn't plan it, but this week's show has a strong theme of older games reappearing in new forms. James sits in the hosting chair for New Business (your regular host was late, due to Internet outages) and cranks up the remix machine with Wii Sports Club, the online/HD version of Nintendo's mega-hit that is gradually being rolled out on the eShop. Because when I think of motion bowling, I think digital distribution! Gui is up next with his impressions of Wii Fit U, and it sounds like this "trial version" is basically the whole game. Next up is our special guest Karl Castaneda, former RFN host, who just became a Wii U owner with the Zelda bundle. He dives deep into Wind Waker HD to give a passionate but also critical assessment of his favorite in the series. After a trio of Wii and GameCube rehashes, Jonny brings nearly fresh meat with his final thoughts on Rayman Legends. The game may overstay its welcome, but it's still wonderfully creative and one of the best games available on Wii U.
After the break, we catch up on a few smoldering emails, starting with one of the angriest emails we've ever received (thankfully, it's directed not us but at the Virtual Console trickle). We also tackle the very uncomfortable topic of SwapNote predators and the question of Nintendo's culpability. Oh, and as we mark the tenth anniversary of Metroid: Zero Mission... wherefore art though, 2D Metroid? Finally, we try to comprehend why Nintendo would fart the Wii Mini into an already confused American retail space.
Please help maintain these fun conversations with your own provocative Listener Mail! Also, don't forget that our NWR Live Telethon is coming up on Saturday, 11/23... many more details coming up within the next few days. And you can check out many more podcasts from Karl and his cohorts over at Crosstawk. Please do!
This podcast was edited by Guillaume Veillette.
Music for this episode of Radio Free Nintendo is used with permission from Jason Ricci & New Blood. You can purchase their newest album, Done with the Devil, directly from the record label, Amazon (CD) (MP3), or iTunes, or call your local record store and ask for it!
Additional music for this episode of Radio Free Nintendo is copyrighted to Nintendo and is included under fair use protection.