We say goodbye to a podcast hero and then go full Japanese.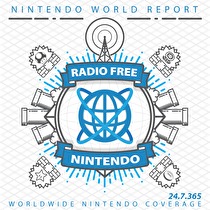 Subscribe via iTunes (Please rate and review, too!)
This week's RFN begins on a melancholy note, as the crew mourns the untimely passing of Giant Bomb's Ryan Davis. We offer our thoughts on a podcasting legend who was gone all too soon.
But as always, there are games to be discussed. Thanks to the Fourth of July break we're all full to the gills with Freedom Fries, and whatever type of celebratory cuisine they enjoy up in Quebec. Speaking of Quebec, Guillaume returns in full force and kicks off a tour of Japan with his thoughts on the demon-taming mayhem that is Shin Megami Tensei IV (3DS). Jon follows up with a discussion of Kokuga (3DS), the highly anticipated shooter brought to us by the creator of Radiant Silvergun and Ikaruga. James then makes all of that look positively sane by comparison with tactical crossover RPG (yes, that's a genre) Project X Zone (3DS). Just when things are threatening to get a bit too Japanese, Jonny takes us back to the West side (arguably the best side, according to several rappers) with the Renegade Kid-developed titles Mutant Mudds Deluxe (Wii U) and ATV Wild Ride 3D (3DS).
We also hit the mailbag and discuss Nintendo's relationship with third parties, use of the Wii U Gamepad, eShop game prices, and relaunching Wii U. It's a jam-packed show that you won't want to miss!
This podcast was edited by Guillaume Veillette.
Music for this episode of Radio Free Nintendo is used with permission from Jason Ricci & New Blood. You can purchase their newest album, Done with the Devil, directly from the record label, Amazon (CD) (MP3), or iTunes, or call your local record store and ask for it!
Additional music for this episode of Radio Free Nintendo is copyrighted to Nintendo and is included under fair use protection.