Jared pops in to continue the Wii U avalanche, as we all four have one now. Also: Jonny dumps on Power of Illusion, and we try some free Mario levels.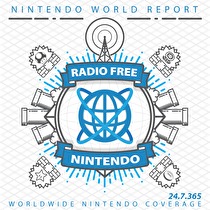 Subscribe via iTunes (Please rate and review, too!)
Though you're hearing this show at least two weeks after the Wii U launch, it's the first episode in which all of us have the new system. James primes the coverage with a few thoughts on Nintendo Land (as a solo game), indifference to Mighty Switch Force HD, and surprised enjoyment of Scribblenauts Unlimited (which also prompts a quick reference to 5th Cell's forgotten DS game, Lock's Quest). Jared keeps it up with a quick recap of the recent NWR live stream from Neal's abode (archive here), mixed impressions of Sonic & All-Stars Racing Transformed, and confused praise for Little Inferno. Jonny finally got his back his console a couple days before recording and has some random thoughts on setup and interface, including a test drive of the video chat service with Billy. The game Jonny spent the most time with, unfortunately, is the dreadfully limp Epic Mickey: Power of Illusion on 3DS. Luckily, we have Guillaume to raise our spirits with his love for the free, "classic" NSMB2 levels, as well as Ys 7, Falcom's brilliant action-RPG for PSP and PC.
In Listener Mail, we combine a pair of dismayed letters to introduce a lengthy discussion of the Wii U's technical prowess and how it may affect third-party support in years to come. We also get a humorous point of clarification from James Charlton on the recent "Super Wii" commercial/debate. We're always looking for intriguing emails to put on the show, so please send yours today! Also, be sure to subscribe to the NWR Exclusives channel on YouTube to keep up with all of Jared's great work as video producer!
This podcast was edited by James Jones and Jonathan Metts.
Music for this episode of Radio Free Nintendo is used with permission from Jason Ricci & New Blood. You can purchase their newest album, Done with the Devil, directly from the record label, Amazon (CD) (MP3), or iTunes, or call your local record store and ask for it!
Additional music for this episode of Radio Free Nintendo is copyrighted to Nintendo and is included under fair use protection.