The RFN crew talks about hopes and expectations for the Wii U launch details.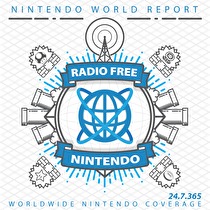 Subscribe via iTunes (Please rate and review, too!)
Jon is out this week due to a late work day, and we pushed off RetroActive again (it's definitely happening on 303 now). But there's still plenty to talk about on this show, as we return to a typical length packed with New Business, Listener Mail, and a sizable feature discussion.
James kicks it off with a string of game demo impressions. He enjoys Hybrid on XBLA (a shooter from the guys who made... Scribblenauts?), hates the net code in Heroes of Ruin, disses the tutorial-heavy demo for Dust: An Elysian Tale, and urges you to discover Miyamoto's forgotten gem, Mole Mania, now on 3DS Virtual Console. Guillaume brings a 2D platforming duo with the impressive homebrew level pack called Another New Super Mario Bros. Wii and the far less notable TOSE joint, The Legendary Starfy. Jonny continues that theme with his own take on Sound Shapes (PSN), a game Nintendo should have made themselves, and the WiiWare sequel/reboot Excitebike World Rally, which Nintendo probably should have left in pieces under the tea table.
We intended this to be just a quick preview, but our mini-feature discussion on the Wii U launch went much deeper than expected, and that's a good thing. We go through the date, price, pack-ins, software, retail supply, and media attention with expert predictions at every turn. Nintendo should be announcing the real details very soon, so listen now and see how close we called it! Finally, we tackled a bit of Listener Mail this week, with questions on which WiiWare games should follow ThruSpace and Fluidity on the path to eShop, plus our recommendations for a Nintendo gamer who just picked up a PlayStation 3 and PSP. Please send in your own questions and ideas so we can address them on a future show!
Next week, we'll FINALLY be talking about Wario Land 4 in the oft-delayed RetroActive #23 feature. Listener comments on the game will be pulled from this official forum thread, so drop off your thoughts and maybe they'll be read on the podcast! Also, we hope you'll check out the second episode of Nintendo Free Radio, made by some of our favorite community members. You can also hear what Jonny, Karl, Obi, and Stan have been seeing at the movies over on Box Office Poison.
This podcast was edited by Guillaume Veillette.
Music for this episode of Radio Free Nintendo is used with permission from Jason Ricci & New Blood. You can purchase their newest album, Done with the Devil, directly from the record label, Amazon (CD) (MP3), or iTunes, or call your local record store and ask for it!
Additional music for this episode of Radio Free Nintendo is copyrighted to Nintendo and Konami, and is included under fair use protection.