Jonny returns to the world of compulsive game-buying, and we answer your hot questions about Wii U, 3DS, and reviving Nintendo's classic franchises.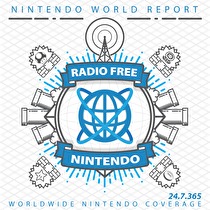 Subscribe via iTunes (Please rate and review, too!)
This week's show begins with Jonny celebrating the completion of his New Year's resolution. In addition to the inevitable praise for Mass Effect 3, he also catches up with Minis March Again for DSiWare and finally completes the main quest in Skyrim. More importantly to most of our listeners, James has extensive impressions for The Last Story, which he just imported from Europe. It's a great chance to learn more about the Wii RPG being published by XSEED in America this summer. Jon, always a fan of obscure Japanese shoot-em-ups (or "shmups"), delivers with DoDonPachi Maximum for Windows Phone 7, of all platforms. Greg completes the foursome with his long-awaited experience with Goemon's Great Adventure, one of the few (and best) 2D platformers for Nintendo 64.
In Listener Mail, we deal with a typically excellent batch of questions from our enlightened listeners. What are the implications of Wii U supporting just one or multiple tablet controllers? Why are Pokemon Black & White 2 being released for DS, and what happens to the young audience when the series finally jumps to 3DS? And how can Nintendo overcome the increasingly oppressive inertia of some of its storied franchises being dormant for one or more generations, even as their audience grows and changes much more rapidly? We'd love to hear your own questions and comments, so please do write in!
This podcast was edited by Greg Leahy.
Music for this episode of Radio Free Nintendo is used with permission from Jason Ricci & New Blood. You can purchase their newest album, Done with the Devil, directly from the record label, Amazon (CD) (MP3), or iTunes, or call your local record store and ask for it!
Additional music for this episode of Radio Free Nintendo is copyrighted to Nintendo and Konami, and is included under fair use protection.