We are finally living in a post-N64-drama world.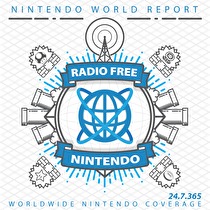 Subscribe via iTunes (Please rate and review, too!)
Jonny returns this week with boundless enthusiasm and a bag of game impressions. First up is Kirby Mass Attack, the late DS release with clever gameplay, a few control issues, and a couple of awesome mini-games. Jonny also has a quick tale of playing Tiger Woods 12: The Masters with his dad. James follows with his highly anticipated thoughts on Professor Layton & The Last Specter, which he completed in two days and proceeded to pour a dozen more hours into the London Life add-on mode. Lindy takes a first look at PixelJunk Sidescroller, a retro-styled horizontal shmup just released on PS3 that will hold great appeal for Gradius fans. Greg wraps up New Business with a special report on the London edition of the Zelda 25th Anniversary Concert that you don't want to miss!
Listener Mail also returns, and this week's emails deliver lots of heated discussion. Is it true that RFN doesn't care about Kirby? Where the hell would you put extra buttons and a second Circle Pad on a 3DS redesign? Is Pokemon a real RPG? What exactly is wrong with Nintendo's stock owners? We answer all these questions and much more. Please send your emails for next time with this handy contact page!
Don't forget that RetroActive is coming up next week, and the official forum thread for River City Ransom is already bustling. Play the game and leave your comments for a chance to be read on the show! Finally, you'll hear on the show that we just announced the return of our live podcast telethon for Child's Play. Much more details are on the way, but for now, please mark your calendar for Saturday, November 19th at Noon Eastern.
This podcast was edited by Greg Leahy.
Music for this episode of Radio Free Nintendo is used with permission from Jason Ricci & New Blood. You can purchase their newest album, Done with the Devil, directly from the record label, Amazon (CD) (MP3), or iTunes, or call your local record store and ask for it!
Additional music for this episode of Radio Free Nintendo is copyrighted to Nintendo, and is included under fair use protection.