They're coming over tonight to play golf and talk video games. We might watch some football, too. You know, whatever.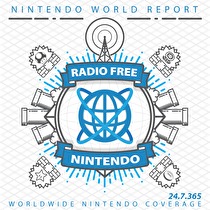 Subscribe via iTunes (Please rate and review, too!)
We know you listen to RFN for the huge variety of games and to hear our discussions on listener-requested topics, so this episode is all about those things! First up is New Business, and Greg kicks off with the latest 3DS Virtual Console release, Catrap. You might be surprised how much our discerning editor appreciates this primitive Game Boy puzzle title. (Note: We also briefly stray into Metroid II talk -- be sure to check out our extended RetroActive discussion on that game in RFN Episode 193.) Next up is James, who comes around a bit on Solatorobo and finally boots up his import copy of Inazuma Eleven, the impressive and bizarre soccer RPG from Level 5. Jon has an update on Demon's Souls, so if you were hoping for a break from all the Dark Souls chatter on other podcasts... I guess this is technically a different game. Jonny has been pushing to finish several games before jumping into Xenoblade and other major fall releases, so he wraps up Rochard, closes out the co-op campaign and DLC for Portal 2, and makes serious progress in the HD remake of Ico, a game heavily influenced by Zelda that may now be returning the favor.
We've had a bounty of Listener Mail lately, so the second segment is devoted to answering no less than six of your thought-provoking queries. Topics include gaming conventions, out-of-context game music, our blindness to the cold reality of the gaming market, the second Slide Pad for Resident Evil: Revelations, developer closings, and Radiohead's "Honest Box" model applied to video games. We're always looking for more great letters, so please sow your questions and ideas on this contact form, and we'll harvest them soon!
Also, you should know that River City Ransom won the RetroActive poll. It's a cool little game available worldwide on Wii Virtual Console for 500 points, so download your copy and post your impressions and analysis in the official RetroActive #20 forum thread!
This podcast was edited by Greg Leahy.
Music for this episode of Radio Free Nintendo is used with permission from Jason Ricci & New Blood. You can purchase their newest album, Done with the Devil, directly from the record label, Amazon (CD) (MP3), or iTunes, or call your local record store and ask for it!
Additional music for this episode of Radio Free Nintendo is copyrighted to Nintendo, and is included under fair use protection.