It's a five-man show as Karl shows up to the defend the honor of Killer 7. But is that even necessary?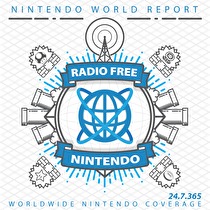 Subscribe via iTunes (Please rate and review, too!)
It's a full house this week as former co-host Karl Castaneda returns to RFN to discuss one of his favorite games, Killer 7. But first, Karl gives us the word on Ms. Splosion Man and Suda51's latest release, Shadows of the Damned. Greg has impressions of the frothily anticipated Rhythm Heaven for Wii, plus a quick look at Gargoyle's Quest for 3DS Virtual Console. (We'll have much more on that one next week.) James provides an update on Enslaved while waiting on shipment of even more interesting titles. Since Jon and Jonny didn't play much new this week, we shore up New Business with a single bit of Listener Mail pertaining to some wacky new 3DS rumors.
After the break, we finally make good on RetroActive #19 with a very thorough analysis of Killer 7, the truly bizarre adventure/shooter GameCube release from Capcom and Suda51's Grasshopper Manufacture studio. It's an honest and well-rounded discussion of the game's triumphs and shortcomings, and true to the predictions of many pollsters, the game proves to be fertile ground for conversation. Karl showed up with shield in hand but soon finds that the rest of us may not be so antagonistic towards his beloved game. We also read a few comments from the RetroActive forum thread, which remains open if you're still playing the game, or were inspired to do so by this episode. Thanks as always to everyone who voted and played along! We'll have info on the next RetroActive coming soon.
Jonny will be out next week, but RFN will roll on with a solid block of Listener Mail. Get yours in now and it could be answered on the show!
This podcast was edited by Greg Leahy.
Music for this episode of Radio Free Nintendo is used with permission from Jason Ricci & New Blood. You can purchase their newest album, Done with the Devil, directly from the record label, Amazon (CD) (MP3), or iTunes, or call your local record store and ask for it!
Additional music for this episode of Radio Free Nintendo is copyrighted to Nintendo, and is included under fair use protection.