One segment, three gamers, a fistful of emails -- these are the signs that we may have burned ourselves out last week.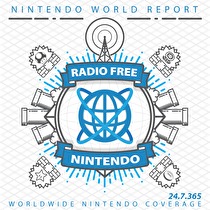 Subscribe via iTunes (Please rate and review, too!)
This week, we have an abbreviated but still intense episode for you. It's all mail, all the time, as we dig into the stack of letters to answer your questions about Operation Rainfall, Skyward Sword, Wii U's Circle Pads, and much more. As always, we would love to hear from you. This handy email form makes it easy!
We're taking next week off for a rare RFN vacation, but the podcast will return in late July. Look for a new RetroActive poll to pop up sometime during the break -- we'll post something on the front page, as well as send an alert to our fans on Facebook and Twitter!
This podcast was edited by Greg Leahy.
Music for this episode of Radio Free Nintendo is used with permission from Jason Ricci & New Blood. You can purchase their newest album, Done with the Devil, directly from the record label, Amazon (CD) (MP3), or iTunes, or call your local record store and ask for it!
Additional music for this episode of Radio Free Nintendo is copyrighted to Nintendo, and is included under fair use protection.