Nathan Mustafa from NWR Newscast drops in to help us remember Goldeneye (N64).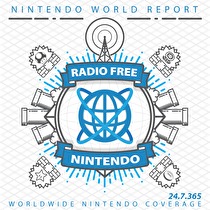 Subscribe via iTunes (Please rate and review, too!)
James took a rare week off to attend something called American football, a crude mutation of rugby involving forward passes and other nonsensical rules. His substitute is Nathan Mustafa, the newest member of the NWR Newscast, here making his debut at Radio Free Nintendo. Nathan has been called "the James of Newscast", so it was really the perfect swap.
Nathan opens New Business with an affirmation of Super Meat Boy's awesomeness, which also gives us a chance to bitch about the WiiWare size limit that is delaying a port to our beloved Nintendo console. He also explains why he likes Fallout: New Vegas despite all the things he hates about it. (To hear about Nathan's exploits on Wii and DS, check out "What Ya Been Reviewing?" on the Newscast.) Greg maxes out Wario Land: Shake It and reports on the shockingly great Sonic Colo(u)rs DS demo, which Jonny also tried. Lindy is still digging for free time in Boston, so he instead gives us a run-down of what games he'd like to be playing, and we in turn list the games we want him to play (hint: they involve videos of him rapping, like Hulk Hogan). Finally, Jonny reports on finishing several games, including Picross 3D, Kirby's Epic Yarn, and Alan Wake -- listen for the latter game's tribute to James Jones.
After the break, we have a mid-sized retrospective on the original Goldeneye 007, a game we all love but have never really discussed on the show before. With Activision's well-received "remake" now making the rounds, it seemed like a great time to discuss the innovations and addictive power of Rare's first and most famous FPS. Later, we tackle a couple of Listener Mail questions about unsupported Wii accessories, Sims 3 for consoles, and even Need for Speed (a.k.a. Burnout: Real Cars Edition).
This podcast was edited by Greg Leahy.
Music for this episode of Radio Free Nintendo is used with permission from Jason Ricci & New Blood. You can purchase their newest album, Done with the Devil, directly from the record label, Amazon (CD) (MP3), or iTunes, or call your local record store and ask for it!
Additional music for this episode of Radio Free Nintendo is copyrighted to Nintendo, and is included under fair use protection.