Special guest Nathan Fouts tells us about designing (and selling) 2D action games.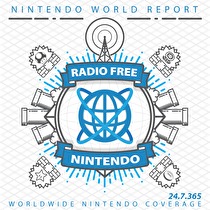 Subscribe via iTunes (Please rate and review, too!)
It's still just the three of us for most of this episode, but our special guest did arrive for an awesome middle segment. First, though, we've got the Layton vs. Gyakuten announcement, an ode to Retronauts, and in-depth impressions of Endless Ocean 2, Drill Dozer, Super Meat Boy, and of course, Kirby's new console game.

The focus on 2D platformers continues into part two, when Nathan Fouts of Mommy's Best Games and 8 Bit Horse pops in to pimp his wares (which are worthy of much pimping) and philosophize on how to design an exploration-based 2D action game. He takes us on a journey through heavy metal artwork, 2D games of yore, and even Cho-Aniki -- wherefore art thou, Jon Lindemann? Be sure to check out Nathan's killer indie games on Xbox 360: Weapon of Choice, Shoot 1up, and Explosionade, with Grapple Buggy due next year.

The RFN crew wraps up this big episode with a promised batch of Listener Mail. We answer your burning questions about game-specific podcasts, narrative innovation in Star Fox 64, and Kirby's slow-paced gameplay mechanics. Keep those emails coming, and be sure to vote in the next RetroActive poll to help select which Nintendo DS game we'll play together and discuss on an upcoming episode. See you next week!

This podcast was edited by Greg Leahy.
Music for this episode of Radio Free Nintendo is used with permission from Jason Ricci & New Blood. You can purchase their newest album, Done with the Devil, directly from the record label, Amazon (CD) (MP3), or iTunes, or call your local record store and ask for it!
Additional music for this episode of Radio Free Nintendo is copyrighted to Nintendo, and is included under fair use protection.