Just the three of us, we can make it if we try.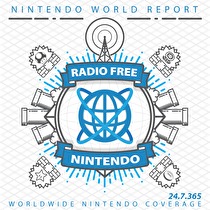 Subscribe via iTunes (Please rate and review, too!)
This week's show features a reduced --nay, distilled-- crew of three gentlemen who sure do like Nintendo. Greg starts by bragging that Europe will get the Super Mario Bros. 25th Anniversary products, but he also has even more jealousy-inducing material with legendary NES game Faxanadu, just released on the Japanese Virtual Console and hopefully heading west soon. Jonny recommends Plants vs. Zombies and Explosionade, plus gives an update on his various RPG exploits. James has chewed through yet another Professor Layton game, and he has first impressions on Final Fantasy: The Four Heroes of Light. During the break, we also have a pre-recorded interview by Karl with the producer of DJ Hero 2.
In the second half, we return to Listener Mail with your questions about WiiHD, Facebook, games that humiliate us, the insidious influence of the Classic Controller, Nintendo's answer to Uncharted, and our favorite Kirby games. There's still time to post your thoughts on Yoshi's Story for next week's RetroActive feature -- hit that thread!
This podcast was edited by Greg Leahy and Karl Castaneda.
Music for this episode of Radio Free Nintendo is used with permission from Jason Ricci & New Blood. You can purchase their newest album, Done with the Devil, directly from the record label, Amazon (CD) (MP3), or iTunes, or call your local record store and ask for it!
Additional music for this episode of Radio Free Nintendo is copyrighted to Nintendo, and is included under fair use protection.