Hear about lots o' games & emails from your friendly RFN crew!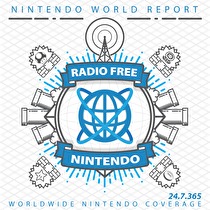 Subscribe via iTunes (Please rate and review, too!)
New Business is chock full of DS games this week! James pukes all over Monkey Madness: Island Escape, a touch screen on-rails shooter with tendencies to crash; he also bites into Rez HD (maybe to prepare for Child of Eden). Jonny sticks with Dragon Quest 9 and tries to explain why the game is so addictive and compelling despite the lame story. Jon snags a cheap-ass copy of Little Big Planet for PSP to confirm that system's ability to play (very few) 2D platformers. Greg cleans up with the 2006 DS import title, Chou Soujuu Mecha MG, sort of a portable Steel Battalion but with more variety (and children). This ignites a quick tangent into Gotcha Force, an obscure but really fun GameCube title from Capcom.
Listener Mail jump-starts with a pair of questions about the multimedia capabilities of 3DS and any other unannounced features housed within the super-handheld. We also get into Goldeneye multiplayer titles, Nintendo's aversion to limited collector's editions, and a big, meandering conversation about finishing games and the importance of closure.
This podcast was edited by Greg Leahy.
Music for this episode of Radio Free Nintendo is used with permission from Jason Ricci & New Blood. You can purchase their newest album, Done with the Devil, directly from the record label, Amazon (CD) (MP3), or iTunes, or call your local record store and ask for it!

Additional music for this episode of Radio Free Nintendo is copyrighted to Nintendo, and is included under fair use protection.