Billy drops in to talk up EGM, and we close out the E3 predictions with a long, hard look at what's brewing on Wii.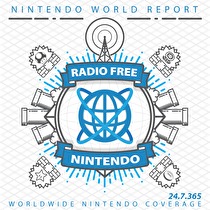 Subscribe via iTunes (Please rate and review, too!)
For the last episode before E3, we are excited to present a special guest, the founder of this very website, Billy Berghammer! You may have heard him lately on the Weekend Confirmed podcast, but we had to bring Billy back home to NWR, especially after he was named the new Editor-in-Chief of Electronic Gaming Monthly. These activities certainly qualify as New Business (literally), but Billy also gives his impressions of MGS: Peace Walker and Tiger 11 for Wii. Jonny cedes his time to James, who has the new Mega Man Zero Collection for DS. Greg wraps up this snappy segment with Penta Tentacles (a.k.a. Rotozoa) on WiiWare.
Next up is part two of our E3 Predictions, with a focus on Wii games and accessories. Greg leads the discussion, in which we imagine how the Vitality Sensor might not suck, postulate the glory of Zelda, and dread the on-stage demo for Wii Party. And what will third-parties have to show for the system's fifth holiday season? Billy's expertise is called upon when we consider how Nintendo should respond to motion-control threats from both Microsoft and Sony.
In the final segment, James and Greg tackle your pre-E3 questions about 3DS screens, a novel idea to work voice into Zelda, the possibility of a new "corporate color" for Nintendo's next hardware launch, and a special message for Karl. We'll catch up with many more of your questions and comments after E3, so keep sending those great emails! Also, remember that Episode 200 is just over the horizon, so be sure to send in your entries for the "Drunkcast Debacle" contest.
We're always looking for great Listener Mail to read and discuss on the show, so please send your questions or comments! (We really love seeing your praise and feedback regarding the show itself; however, in the interest of time, we may edit your letter to be read on the podcast.)
Credits:
This podcast was edited by Greg Leahy.
Music for this episode of Radio Free Nintendo is used with permission from Jason Ricci & New Blood. You can purchase their newest album, Done with the Devil, directly from the record label, Amazon.com, or iTunes, or call your local record store and ask for it!
Additional music for this episode of Radio Free Nintendo is copyrighted to Nintendo, and is included under fair use protection.