Already feeling E3 coverage fatigue? Take a break with this classic-format episode of RFN. We'll get back to unfounded predictions next week!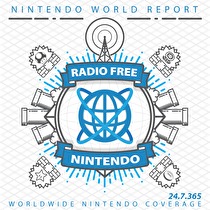 Subscribe via iTunes (Please rate and review, too!)
Lindy Toggle: On
Sandwiched between our two E3 prediction shows is this fresh slice of regular RFN lunchmeat, featuring New Business and Listener Mail segments. The game discussions kick off with Jon's highly anticipated, minimally informed impressions of Super Mario Galaxy 2. Greg has the scoop on a Japanese demo of Ghost Trick, and he catches up with Kojima's overlooked DS game, Lunar Knights. James has a pair of Eastern-style games with Disgaea DS and Muramasa: The Demon Blade. Jonny caps the segment with the final week of his PS3 monopoly, with muted praise for Ratchet & Clank: A Crack in Time and first thoughts on God of War III.
What's the best Castlevania game for series newcomers? This seemingly simple question is debated with the usual aplomb and long-windedness, along with your queries re: Fragile Dreams, the downside of knowing too much about the gaming business, and the differences between Yamauchi and Iwata. (It would have been much quicker to discuss their similarities.) Be sure to listen all the way through for details on our new contest related to the mysterious post-Drunkcast incident!
We're always looking for great Listener Mail to read and discuss on the show, so please send your questions or comments! (We really love seeing your praise and feedback regarding the show itself; however, in the interest of time, we may edit your letter to be read on the podcast.)
Credits:
This podcast was edited by Greg Leahy.
Music for this episode of Radio Free Nintendo is used with permission from Jason Ricci & New Blood. You can purchase their newest album, Done with the Devil, directly from the record label, Amazon.com, or iTunes, or call your local record store and ask for it!
Additional music for this episode of Radio Free Nintendo is copyrighted to Nintendo, and is included under fair use protection.