Andy helps us to size up Nintendo's handheld plans at E3 2010. Plus: Trauma Team, Bit.Trip Runner, and more Galaxy 2!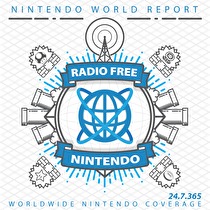 Subscribe via iTunes (Please rate and review, too!)
Jon is coming back before E3, don't worry, but our friend Andy Goergen stopped by to fill the big man's shoes this week. As a member of the NWR Newscast crew, Andy is well equipped to discuss the big show. But before that, we have to let loose on yet another massive dose of New Business. Mister Goergen starts with Galaxy 2 and a gem from yesteryear -- Godfather: Blackhand Edition. Jonny remains stuck in PS3-land and is rather displeased about it, judging by his comments on Little Big Planet, PixelJunk Monsters, and a withering post-script on Heavy Rain. James returns us to the Wii with enthusiastic impressions of Trauma Team, while Greg reports on Bit.Trip RUNNER, a game that might be too difficult even for him.
This show includes only Part 1 of our E3 preview, but we still filled a whole segment just talking about DS, DSi, and especially 3DS. We make bold, idealistic predictions on unannounced features, launch windows, and the first games that Nintendo will show on the handheld successor. Also: can DS/DSi have one more great E3 showing? We answer that question and tease our Wii speculations, which will be developed further on next week's episode!
We're always looking for great Listener Mail to read and discuss on the show, so please send your questions or comments! (We really love seeing your praise and feedback regarding the show itself; however, in the interest of time, we may edit your letter to be read on the podcast.)
Credits:
This podcast was edited by Greg Leahy.
Music for this episode of Radio Free Nintendo is used with permission from Jason Ricci & New Blood. You can purchase their newest album, Done with the Devil, directly from the record label, Amazon.com, or iTunes, or call your local record store and ask for it!
Additional music for this episode of Radio Free Nintendo is copyrighted to Nintendo, and is included under fair use protection.