Every Metroid must die. Except that cute one.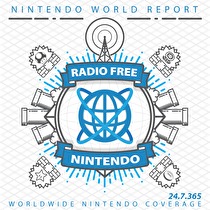 Subscribe via iTunes (Please rate and review, too!)
RFN is up to no good, starting with a brisk but full New Business. Jon is back to give us the run-down on Monster Hunter Tri, which he says is much better than the demo would have you believe. Jonny sings the praises of Picross 3D, Greg explores the puzzle/strategy/RPG genre with Might & Magic: Clash of Heroes, and James laments that ATV Quad Kings isn't bad enough.
The remainder of the show is all about Metroid II: Return of Samus, the latest game you selected for our RetroActive feature. Ardent fan Zach Miller (of the NWR Newscast) joins us to cover every exhaustive detail of this handheld curio. The game has its defenders (Jonny) and detractors (James), as well as plenty of fans stuck in the middle (Greg and Jon), and all are represented on our five-member panel. Remember, the discussion lives on in the dedicated Metroid II RetroActive forum thread! This segment was so much fun that we ran out of time for Listener Mail, but we'll catch up next week, so keep sending those great questions.
We're always looking for great Listener Mail to read and discuss on the show, so please send your questions or comments! (We really love seeing your praise and feedback regarding the show itself; however, in the interest of time, we may edit your letter to be read on the podcast.)
Credits:
This podcast was edited by Greg Leahy.
Music for this episode of Radio Free Nintendo is used with permission from Jason Ricci & New Blood. You can purchase their newest album, Done with the Devil, directly from the record label, Amazon.com, or iTunes, or call your local record store and ask for it!
Additional music for this episode of Radio Free Nintendo is copyrighted to Nintendo, and is included under fair use protection.
The closing music used in this episode of Radio Free Nintendo, "The Tunnel" composed and arranged by Grant Henry (aka Stemage) for MetroidMetal.com, is also included under fair use protection.