Among many topics in this episode, we run down a list of nearly every Nintendo first-party and second-party developer and what each one might be working on.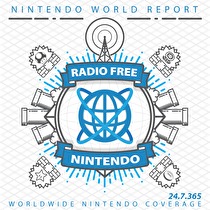 Subscribe via iTunes (Please rate and review, too!)
We start with a couple of program notes: the next RetroActive game will be Metroid II: Return of Samus, so dig up your old copy or check it out for the first time! Also, we'll be off next week, but look forward to a special bonus podcast instead.
New Business rockets into orbit with Final Fight, the Zelda-clone Darksiders, Cave Story, a Castlevania comparison, and the stark weirdness of Shin Megami Tensei: Strange Journey. Oh, and cooking.
The latest batch of stellar questions in Listener Mail begin with a reference to The 7th Guest and an exploration of live-action video in gaming. Could this 90s fad still be alive? Next up, we take bets on Metroid: Other M having selectable difficulty levels and partially revisit Episode 167's feature discussion on gaming difficulty. Then, it's time for dancing as we comment on Wii Fit's step program and recommended alternatives. The final email is in fact three separate questions, but we focus on a request to go down the list of Nintendo's "internal" development teams, noting what each is making now and what we expect from them in the near future. This is surely one of the longest email answers we've ever had on RFN!
We're always looking for great Listener Mail to read and discuss on the show, so please send your questions or comments! (We really love seeing your praise and feedback regarding the show itself; however, in the interest of time, we may edit your letter to be read on the podcast.)
Credits:
This podcast was edited by Greg Leahy.
Music for this episode of Radio Free Nintendo is used with permission from Jason Ricci & New Blood. You can purchase their newest album, Done with the Devil, directly from the record label, Amazon.com, or iTunes, or call your local record store and ask for it!
Additional music for this episode of Radio Free Nintendo is copyrighted to Nintendo, and is included under fair use protection.