This episode combines a wonderfully diverse set of New Business games with four excellent listener questions.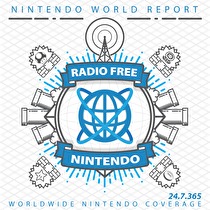 Subscribe via iTunes (Please rate and review, too!)
Let's cut to the chase: New Business has Mega Man 10, Brutal Legend, Global Agenda, Raiden IV, Dragon Age, Bionic Commando ReArmed, and Bleach: Dark Souls. Whew!
A full, and fully awesome, Listener Mail segment includes your questions about fixing Wii Music, Virtual Console Arcade vs. Xbox Game Room, the spectrum of emotions in gaming, and the value of DSi XL.
Heading to PAX East in March? If you can stand to miss part of Chris Kohler's panel or Wil Wheaton's keynote, please consider attending our own panel, Radio Free Nintendo: A Live Nintendo Podcast for Grown-Ups. Jonny, James, Jon, Karl, and Mike will be in person to discuss Nintendo games and take your questions, directly from the audience! There are also plans to have a social gathering with RFN fans that weekend -- check the forum thread for details. If you can't make it to PAX, don't worry! We plan to record everything for the podcast feed.
We're always looking for great Listener Mail to read and discuss on the show, so please send your questions or comments! (We really love seeing your praise and feedback regarding the show itself; however, in the interest of time, we may edit your letter to be read on the podcast.)
Credits:
This podcast was edited by Greg Leahy.
Music for this episode of Radio Free Nintendo is used with permission from Jason Ricci & New Blood. You can purchase their newest album, Done with the Devil, directly from the record label, Amazon.com, or iTunes, or call your local record store and ask for it!
Additional music for this episode of Radio Free Nintendo is copyrighted to Nintendo, and is included under fair use protection.