It's finally time to whittle down the list of nominees for Game of the Decade... but you get to make the final decision!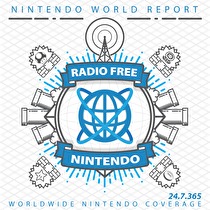 Subscribe via iTunes (Please rate and review, too!)
Recording this episode was some of the most fun we've ever had making Radio Free Nintendo. We think you'll love the finished product just as much. Before the big feature segment, we have a reduced New Business with Big Bang Mini, Blaster Master: Overdrive, and the amazing free shmup, Genetos.
James missed the first half-hour, but he's definitely present for the gigantic conversation about Game of the Decade. We start with the final round of nominees and then launch right into deliberations. Needless to say, it was a real challenge cutting a list of 20 amazing games down to just a handful. Emotions ran high as we made several Sophie's Choices in this process, but we tried very hard to avoid negativity. Even when games had to be cut, we sent them off with praise. The final result is a short list of incredible games, and thankfully, we didn't have to choose just one in the end. That task goes to you, in fact. While the poll has started, we strongly encourage you to hear this episode of RFN before voting or even looking at the final selections. Not only will you experience the drama of our methodology, but you will hear many great stories about these games and perhaps rethink your position on them.
Next week, we'll finally do RetroActive: Super Mario RPG! Leave your comments and join the discussion in the dedicated forum thread.
We're always looking for great Listener Mail to read and discuss on the show, so please send your questions or comments! (We really love seeing your praise and feedback regarding the show itself; however, in the interest of time, we may edit your letter to be read on the podcast.)
Credits:
This podcast was edited by Greg Leahy.
Music for this episode of Radio Free Nintendo is used with permission from Jason Ricci & New Blood. You can purchase their newest album, Done with the Devil, directly from the record label, Amazon.com, or iTunes, or call your local record store and ask for it!
Additional music for this episode of Radio Free Nintendo is copyrighted to Nintendo, Capcom and Ubisoft, and is included under fair use protection.