This episode packs all the usual fun stuff, more Games of the Decade, and the dreaded "art" question. PLUS: A very special announcement!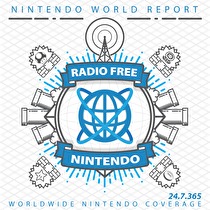 Subscribe via iTunes (Please rate and review, too!)
RFN 180 kicks off with the big news that we'll be doing a panel at PAX East, called "Radio Free Nintendo: A Live Podcast for Grown-Ups". If you're planning to attend the show, or at least thinking about it, check out the forum thread! In other, game-playing New Business, Jon Lindemann dusts off his DSi for a report on Dark Void Zero, while Jonny catches up on various Xbox games (and rants about Nintendo's dereliction of DS demos). Greg has praise and criticism for Dead Space: Extraction, and James is still half-way through the tutorial in Tales of Symphonia: Dawn of the New World.
After a quick break, we've got the next four testimonials in the ongoing Games of the Decade feature. You'll hear from staffers like Pedro and Grant for the first time, and this salvo of games includes beloved epics (Metroid Prime, Majora's Mask) next to influential experiments (Wii Sports, Wii Fit). And there's still more to come! In your Listener Mail, we look back on a year of infinite fridge space (the SD Card Channel), examine how games create emotional impact, and venture into the ultimate no-man's-land of "games as art".
We're always looking for great Listener Mail to read and discuss on the show, so please send your questions or comments! (We really love seeing your praise and feedback regarding the show itself; however, in the interest of time, we may edit your letter to be read on the podcast.)
Credits:
This podcast was edited by Greg Leahy.
Music for this episode of Radio Free Nintendo is used with permission from Jason Ricci & New Blood. You can purchase their newest album, Done with the Devil, directly from the record label, Amazon.com, or iTunes, or call your local record store and ask for it!
Additional music for this episode of Radio Free Nintendo is copyrighted to Nintendo, and is included under fair use protection.