Andy sits in with the RFN crew to kick off 2010 with tons of games!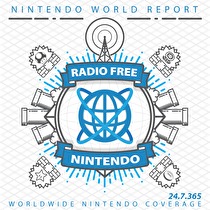 Subscribe via iTunes (Please rate and review, too!)
Radio Free Nintendo enters 2010 with this bang-up episode focusing on impressions from our ongoing holiday gaming sessions. James was stuck at work for this one, so we asked Andy Goergen (of the NWR Newscast) to step in. His slow trek through the Zelda franchise is up to Majora's Mask. Andy is also catching up with The Conduit, and we manage to say some nice things about it (mixed with the usual criticism). Jon's New Business covers two major releases of the past few months. He finally has New Super Mario Bros. Wii, which we seem to have discussed every week since its launch. It is, however, about damn time we got some Modern Warfare 2 talk on the show.
Jonny's holiday journeys through the South brought him tantalizingly close to legendary gamer Billy Mitchell, but his real New Business is A Boy and His Blob. And, despite numerous misgivings that were at least partially valid, he played through most of Spirit Tracks and has plenty to say about that. Greg finally puts this segment to bed with a second look at Metroid Prime (from the Trilogy) and a report on Space Manbow from the Japanese Virtual Console.
Our weekly dose of Listener Mail got cut short, but we still discuss a pair of letters. The first, about getting bad video game gifts, leads to some funny stories from the crew. We end the show with a fun question about Wii achievements and social network integration. Be sure to check out next week's show, when we'll give our Nintendo predictions for 2010.
We're always looking for great Listener Mail to read and discuss on the show, so please send your questions or comments! (We really love seeing your praise and feedback regarding the show itself; however, in the interest of time, we may edit your letter to be read on the podcast.)
Credits:
This podcast was edited by Greg Leahy.
Music for this episode of Radio Free Nintendo is used with permission from Jason Ricci & New Blood. You can purchase their newest album, Done with the Devil, directly from the record label, Amazon.com, or iTunes, or call your local record store and ask for it!
Additional music for this episode of Radio Free Nintendo is copyrighted to Nintendo, and is included under fair use protection.