TYP joins us to say goodbye to 2009 with a look back at the life of the Wii so far.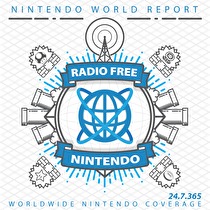 Subscribe via iTunes (Please rate and review, too!)
With Jonny and Lindy off actually celebrating the holidays, it's up to Greg and James to close out the podcasting year with the help of Radio Trivia MC Michael "TYP" Cole, who recently got his hands on the coveted Sin and Punishment 2. The show begins with an appropriately nostalgic New Business, courtesy of Greg and TYP's discussion of the Japan-only Game Center CX 2 and its localised prequel, Retro Game Challenge. James even gets in on the retro act thanks to his undying love for the soon-to-be-remade Lufia II, but he's also looking forward to playing Tales of Symphonia: Dawn of the New World and the bloodiest Nintendo game ever, Zangeki no Reginleiv.
In the final RFN segment of the decade, the three man crew evaluates the Wii generation so far with a look back at the past three years of Nintendo console gaming. Has Nintendo delivered on its promises to innovate and expand the market? What's it been like having Nintendo back on top in the sales charts? Has the traditional fan base been well catered to, or is it being increasingly marginalised? We attempt to answer all these questions and more (listen closely for hints on the existence of Bigfoot and the Bermuda Triangle) before finally bidding adieu to 2009. We'll be back in the new decade!
We're always looking for great Listener Mail to read and discuss on the show, so please send your questions or comments! (We really love seeing your praise and feedback regarding the show itself; however, in the interest of time, we may edit your letter to be read on the podcast.)
Credits:
This podcast was edited by Greg Leahy.
Music for this episode of Radio Free Nintendo is used with permission from Jason Ricci & New Blood. You can purchase their newest album, Done with the Devil, directly from the record label, Amazon.com, or iTunes, or call your local record store and ask for it!
Additional music for this episode of Radio Free Nintendo is copyrighted to Nintendo, and is included under fair use protection.