Leaner and goofier, the RFN crew catches up on Listener Mail in this pre-Mario episode.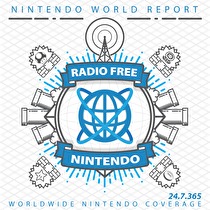 Subscribe via iTunes (Please rate and review, too!)
It's been hard to get everyone together lately, and Greg takes a turn of absence this week. That means we did a rare three-man podcast (hot), although it didn't make the conversation as efficient as you'd think.
James is back and inevitably has an axe to grind with his latest review copy, C.O.P. The Recruit for DS, which is not helped by its amusingly dubious grasp of street slang. The rest of New Business covers more DJ Hero, the never-ending Last Remnant, Wii Fit Plus and Sports Resort, plus Jonny ranting on Metal Gear Solid 4. Next week should have far more Nintendo content, with the release of New Super Mario Bros. Wii and Greg's impressions of Sin & Punishment 2.
The second half of our show is devoted to your emails. We dig back a few weeks to answer letters about a number of topics. You asked about Nintendo MMOs, Virtual Console recommendations, the effect of MotionPlus on NES-style Wii controls, the appeal of DSi XL, and more.
We've had to postpone the next part of our Shining Force II RetroActive, but if you've been playing along with us you can still leave your thoughts and join the conversation in the forum discussion thread.
We're always looking for great Listener Mail to read and discuss on the show, so please send your questions or comments! (We really love seeing your praise and feedback regarding the show itself; however, in the interest of time, we may edit your letter to be read on the podcast.)
Credits:
This podcast was edited by Greg Leahy.
Music for this episode of Radio Free Nintendo is used with permission from Jason Ricci & New Blood. You can purchase their newest album, Done with the Devil, directly from the record label, Amazon.com, or iTunes, or call your local record store and ask for it!
Additional music for this episode of Radio Free Nintendo is copyrighted to Nintendo, and is included under fair use protection.