We just can't do a short show anymore.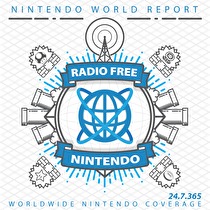 Subscribe via iTunes (Please rate and review, too!)
Even when we stick to weekly segments, plan to go quickly, and even stop after two letters, we still can't make a short podcast. It's really because the four of us have developed so much chemistry in our nearly two years of doing RFN together. And honestly, it's not a real problem... unless one of us needs to be somewhere after recording!
The show notes were simple for this episode, but our playful conversation took us down many unexpected paths. New Business is a bit light on Nintendo content this week; Greg finally got Mario & Luigi 3, and Jonny has an update on FF4: The After Years, but we spend a lot of time on Uncharted 2, Secret of Monkey Island, and yes, more GRAW 2 from James (along with some explanation of why he's playing it). Amidst these planned titles, we also revisited our favorite punching bag of 2008, Grand Theft Auto 4.
Listener Mail starts with a BIG letter that launches us into a major discussion of used game sales and how they affect the industry. We also cover the support and future of Nintendo's Wii Classic Controller, before having to end the show a bit early. Thanks for all the awesome questions -- we'll catch up eventually!
We're always looking for great Listener Mail to read and discuss on the show, so please send your questions or comments! (We really love seeing your praise and feedback regarding the show itself; however, in the interest of time, we may edit your letter to be read on the podcast.)
Credits:
This podcast was edited by Greg Leahy.
Music for this episode of Radio Free Nintendo is used with permission from Jason Ricci & New Blood. You can purchase their newest album, Done with the Devil, directly from the record label, Amazon.com, or iTunes, or call your local record store and ask for it!
Additional music for this episode of Radio Free Nintendo is copyrighted to Nintendo, and is included under fair use protection.