We're back, well rested, and ready to assault your ears with tons of New Business, a news round-up, and your mail!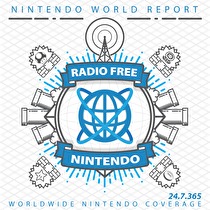 Subscribe via iTunes (Please rate and review, too!)
...aaaaand we're back! After a much needed week off, the RFN crew is armed with new games (and new consoles) to fill up a fat New Business. Expect to hear about DIRT 2, Castlevania: Symphony of the Night, Little Big Planet, Scribblenauts, the original Professor Layton, Muramasa, inFamous, and The Beatles: Rock Band. Whew!
We transition from the games we've been playing to the games we'll be playing, as a catch-up segment on recent news is loaded with digital download game announcements. Finally, in your Listener Mail, we goof on the GameCube keyboard controller, feature a Shout-Out for Baten Kaitos Origins, and field questions about art direction and Aragorn/Hobbit games.
We're always looking for great Listener Mail to read and discuss on the show, so please send your questions or comments! (We really love seeing your praise and feedback regarding the show itself; however, in the interest of time, we may edit your letter to be read on the podcast.)
Credits:
This podcast was edited by Greg Leahy.
Music for this episode of Radio Free Nintendo is used with permission from Jason Ricci & New Blood. You can purchase their newest album, Done with the Devil, directly from the record label, Amazon.com, or iTunes, or call your local record store and ask for it!
Additional music for this episode of Radio Free Nintendo is copyrighted to Nintendo, and is included under fair use protection.