Mike Sklens drops in to get reborn in the holy waters of Nintendo advocacy.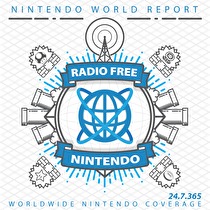 Subscribe via iTunes (Please rate and review, too!)
It's always fun to bring in the original cast members, and nobody is more original than Mike "StrikerObi" Sklens, the co-founder of RFN. It's been over a year since he graced the show, and it seems he hasn't played any Wii or DS games in that time. But we're going to do something about that, aren't we? Three-fifths of us have been playing The Conduit, so there's plenty more chatter there. Jonny loves Swords & Soldiers from WiiWare, and Greg is going all mainstream with Guitar Hero and Tiger Woods.
After the break (sponsored by Professor Layton and the Diabolical Box), we round up several recent news stories. You'll hear us discuss the Metroid Prime Trilogy package, XSEED and the challenge of selling Retro Game Challenge, the new Final Fantasy for DS, Sega's commitment to mature games on Wii, GTA Chinatown Wars branching out to other systems, and bizarre GameStop bundles. Finally, James rips into a new rant about the Grease video games, but can the less masculine cast members defuse the criticism?
Credits:
This podcast was edited by Greg Leahy.
Music for this episode of Radio Free Nintendo is used with permission from Jason Ricci & New Blood. You can purchase their newest album, Done with the Devil, directly from the record label, Amazon.com, or iTunes, or call your local record store and ask for it!