Five exhausted NWR writers discuss the Nintendo press conference and the playable first-party games, from Mario to Sin & Punishment 2!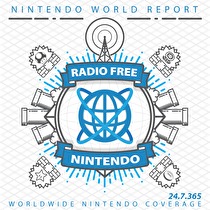 Subscribe via iTunes (Please rate and review, too!)
It's all about Nintendo on this episode, as we try to cover the big press conference as well as quick thoughts on the playable first-party Wii and DS games from our first day on the E3 show floor.
Note: If you aren't already subscribed to one of the feeds or through iTunes, this would be a good week to start. Episodes may show up for subscribers significantly earlier than we can post articles for them.
Credits:
This podcast was edited by Karl Castaneda.
Music for this episode of Radio Free Nintendo is used with permission from Jason Ricci & New Blood. You can purchase their newest album, Done with the Devil, directly from the record label, Amazon.com, or iTunes, or call your local record store and ask for it!