Get to know the E3 crew and hear our first thoughts from Los Angeles.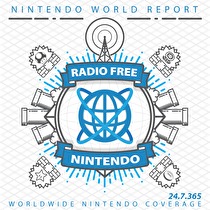 Subscribe via iTunes (Please rate and review, too!)
To kick off a whole week of E3 podcasting, we recorded this "Episode Zero" to test the audio equipment and get everyone used to the experience. It's short, but you'll get a nice introduction to some of the people who will be on the show later in the week. You'll also hear a few early observations from the L.A. Convention Center, while all the booths were still being set up.
Note: If you aren't already subscribed to one of the feeds or through iTunes, this would be a good week to start. Episodes may show up for subscribers significantly earlier than we can post articles for them.
Credits:
This podcast was edited by Michael Cole.
Music for this episode of Radio Free Nintendo is used with permission from Jason Ricci & New Blood. You can purchase their newest album, Done with the Devil, directly from the record label, Amazon.com, or iTunes, or call your local record store and ask for it!