...in which Jon Lindemann and Michael Cole combine to form Nintron, who blasts away your sanity meter and helpfully recommends a starting point for the Final Fantasy series.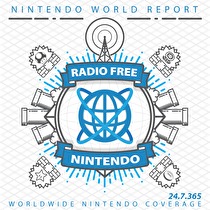 Subscribe via iTunes (Please rate and review, too!)
Hey man. You heard this thing about trivia on the radio? Dig it. The cat who runs that show is crossing over. Totally trips, dog. The bald guy is back, too. But the angry one had to catch some hoops, so he'll be back later. Wait, I feel something coming...
KILLZONE DRAGON QUEST METROID PRIME BIT.TRIP BEAT PULSEMAN FINAL FANTASY TRACKMANIA ETERNAL DARKNESS RESIDENT EVIL SECRET OF MANA TRAUMA CENTER EXCITEBOTS TATSUNOKO VS CAPCOM IPHONE MIRROR'S EDGE GTA CHINATOWN WARS OH JESUS THE GAMES JUST WON'T STOP
...whoa.
Credits:
This podcast was edited by Greg Leahy.
Music for this episode of Radio Free Nintendo is used with permission from Jason Ricci & New Blood. You can purchase their new album, Rocket Number 9, directly from the record label, or download it from iTunes, or call your local record store and ask for it!