Karl joins us to talk about how hype affects games and gamers.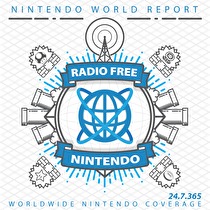 Subscribe via iTunes (Please rate and review, too!)
Sorry, Denis.
Greg returns to us in this episode, and Karl tags along for a full-on, five-man show. We keep New Business unusually brisk, with a heavy focus on WiiWare games. Also, Jonny finally got to play Too Human, and you know he has some thoughts on that.
In the second segment, we take care of DLC Mondays and also revisit some of the lost Listener Mail. Please keep those emails coming, as we are going to take a serious crack at reading three to five letters every single week.
In the final segment, Greg leads us on a rambling conversation about gaming hype -- how it is created, and how it can be positive and negative for the games themselves. Somehow, this leads into various comparisons between games and movies. We even dig up the auteur theory... where's Evan when you need him? (Actually, we plan to have him on the show soon.)
Credits:
This podcast was edited by James Jones.
Music for this episode of Radio Free Nintendo is used with permission from Jason Ricci & New Blood. You can purchase their new album, Rocket Number 9, directly from the record label, or download it from iTunes, or call your local record store and ask for it!