Catch up on TWO days' worth of E3 bulletins from our on-site RFN crew.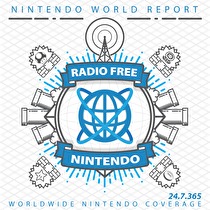 Subscribe via iTunes (Please rate and review, too!)
We saved it for the shows.

We've been recording podcasts daily as planned, but some uploading problems kept our "Day Two" episode from going up until now. To avoid any confusion from uploading two separate episodes at once, we decided to merge that episode and today's into a single file, so you'll get two days' worth of discussion in one big chunk. It's about two total hours of Nintendo E3 analysis!
The first half is all about Nintendo's press conference. We talk about what was there, and we talk even more about what wasn't there. Like many of you, we were unhappy about Nintendo's presentation, but hopefully you'll appreciate the humor in our disillusionment. If not, you'll surely laugh at our hysteria induced by a very long day at the show and recording well past midnight.
The second half, recorded just under 24 hours later, adds Michael "TYP" Cole to the lineup and includes our hands-on impressions of almost every first-party Nintendo game at this year's E3. We also briefly touch on the Pikmin "announcement" from Miyamoto and other highlights from the Nintendo developer roundtable, which concluded shortly before we began recording the show.
Please check back tomorrow for our wrap-up episode, featuring extensive impressions of third-party Wii and DS titles! (We've played a ton of stuff, and some of it is much more interesting than what Nintendo itself is offering this year.)
Credits:
This podcast was edited by Steven Rodriguez.
Music for this episode of Radio Free Nintendo is used with permission from Jason Ricci & New Blood. You can purchase their new album, Rocket Number 9, directly from the record label, or download it from iTunes, or call your local record store and ask for it!