Nintendo World Report's E3 '08 field team kicks off this year's E3 coverage reflecting on the news from Day 1 of E3 '08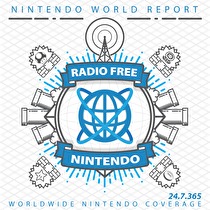 Subscribe via iTunes (Please rate and review, too!)
It's gonna be a long week.

E3 is upon us, and so every year an intrepid team of NWR staffers braves the halls of the Los Angeles Convention Center (last year excluded) to bring you the latest announcements.
Day 1 kicks off our week-long coverage of E3 08, and our daily podcasts to give our team the chance to talk about what they think of the things they encounter at the show.
Jonny "Never Actually on RFN" Metts (Contributing Editor), Carmine "Cai" M. Red (News Editor), and Steven "WindyMan" Rodriguez (Site Director) sit down to reflect on today's news. The topics of conversation include Microsoft's press conference and Nintendo's early announcement of the Wii MotionPlus Remote add-on.
Credits:
This podcast was edited by James Jones.
Music for this episode of Radio Free Nintendo is used with permission from Jason Ricci & New Blood. You can purchase their new album, Rocket Number 9, directly from the record label, or download it from iTunes, or call your local record store and ask for it!