It's time to heal the wounds as we spent a single, two-hour segment talking about games. What a concept!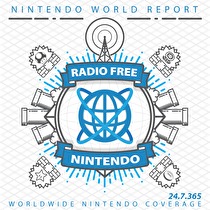 Subscribe via iTunes (Please rate and review, too!)
Happy Birthday to you...

Feedback on last week's episode continues to pour in. Some of you loved it, and some of you were disturbed, but there's no question that this week returns RFN to its roots.
Jonny starts with some self-defense to balance out all the joking at his expense last week. Some guys' mommies never taught them that it's rude to make fun of people who aren't present to defend themselves. In other intro activities, Greg receives a pile of birthday greetings from some very special celebrities.
We then launch into a long, meandering New Business in which we discuss games we're playing, games we would like to play, games that we think are stupid, games we have never played but feel like criticizing anyway, and games that aren't even out yet. It's classic RFN fun, with great participation and chemistry from the four regulars.
Credits:
This podcast was edited by James Jones.
Music for this episode of Radio Free Nintendo is used with permission from Jason Ricci & New Blood. You can purchase their new album, Rocket Number 9, directly from the record label, or download it from iTunes, or call your local record store and ask for it!